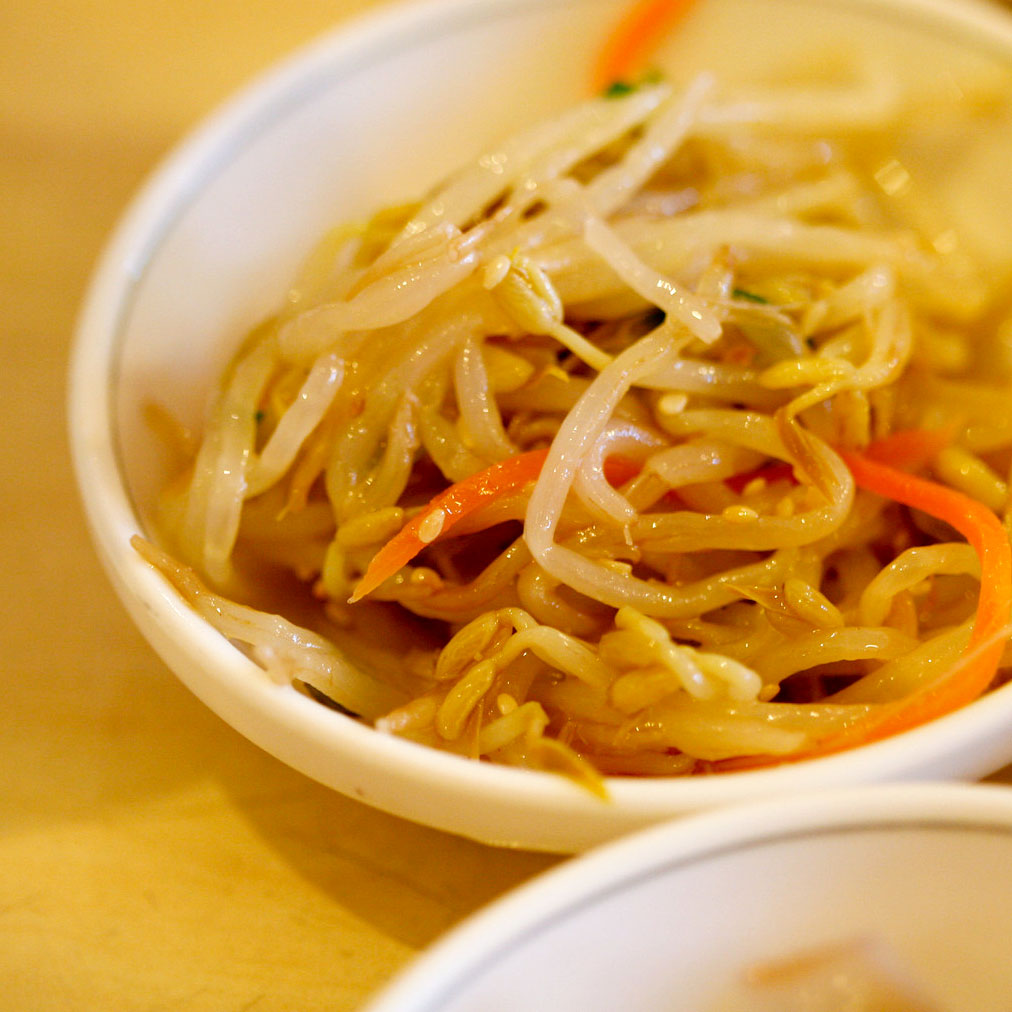 Mung bean sprouts have a crisp and sweet taste and are one of the few sprouts that are suitable for a quick stir-fry. Korean Bean Sprouts Salad is a commonly seen side dish in Korean cuisine. It is very easy to make but is surprisingly delicious, perfect for summer time.
Chinese medicine believes that mung bean sprouts are sweet, cooling and has amazing power to detox your body. If you eat them regularly, you can reduce the heat and dehumidify your body.
Mung bean sprouts contains tons of vitamin C, which can be as rich as twice of kiwi and they are also packed with vitamin A, vitamin B and various minerals such as calcium, iron, and potassium. They are also extremely low in calorie and high in dietary fiber, which help promote bowel movements.
Recipe: Korean Bean Sprouts Salad
Ingredients (for 2):
| | |
| --- | --- |
| Mung Bean Sprouts / Soy Bean Sprouts | 50g |
| Minced Garlic | 1 clove |
| Oyster Sauce / Vegetarian Oyster Sauce / Soy Sauce Paste | 1/2 tsp |
| Salt | 1/3 tsp |
| Sesame Oil | 2 tsp |
| Sugar | 1 pinch |
| Water | 1 tsp |
Directions:
---
| | |
| --- | --- |
| 1. | Rinse and wash the bean sprouts. Bring them to boil in boiling water for 1 minute, and then immediately cool them down in cold water. |
| | |
| --- | --- |
| 2. | Mix garlic, sesame oil, sugar, salt, oyster sauce and a teaspoon of boiling water together. |
| | |
| --- | --- |
| 3. | Drain the bean sprouts, stir in the sauce (step 2) and serve. |
| | |
| --- | --- |
| 4. | It tastes better after refrigerated, especially in summer. |
Tips:
---
| | |
| --- | --- |
| . | Salt and oyster sauce can be added or reduced according to personal preference. |
| | |
| --- | --- |
| . | After the bean sprouts are boiled, they have to be put in cold water to make them crisper. |
| | |
| --- | --- |
| . | You may mix in carrot and sesame to add flavor. |